BRISTOL DEATHFEST 1 & 2 DAY E-TICKETS
£

25.00
Sold out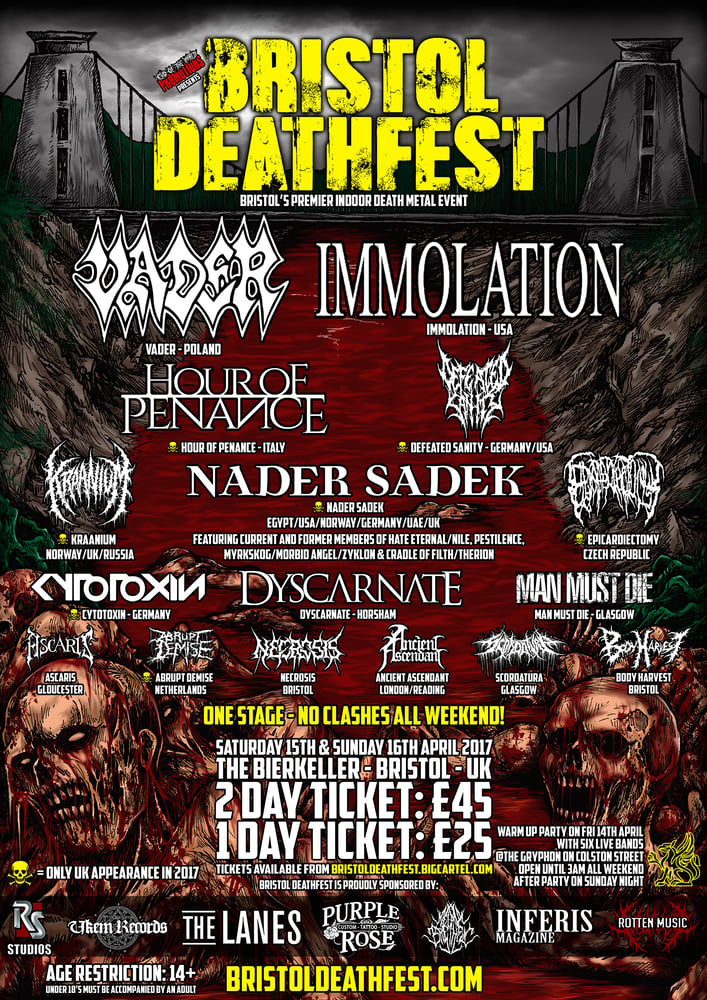 ADVANCE TICKETS OFF SALE - TICKETS WILL BE AVAILABLE ON THE DOOR
**SELECT EITHER 2 DAY OR ONE DAY TICKET FROM THE DROP DOWN MENU**
1 & 2 day e-tickets for Bristol Deathfest on Saturday 15th & Sunday 16th April 2017 at The Bierkeller, Bristol, UK.
Your E-ticket will be emailed to you closer to the event.
You must print the E-ticket and show on the door to claim your weekend wristband.
-----------------------------------------------------------------------------------
END OF THE WORLD PROMOTIONS PRESENTS:
BRISTOL DEATHFEST
BRISTOL'S PREMIER INDOOR DEATH METAL EVENT - FEATURING ARTISTS FROM ALL OVER THE WORLD!
EVENT PAGE: https://www.facebook.com/events/1766613410285211/
SATURDAY CO-HEADLINERS:
VADER & IMMOLATION
SUNDAY CO-HEADLINERS:
HOUR OF PENANCE & DEFEATED SANITY
FULL LINE-UP:
SATURDAY:
VADER (POLAND)
IMMOLATION (USA)
NADER SADEK (EGYPT/USA/NORWAY/GERMANY/UK/UAE) * / **
KRAANIUM (NORWAY/UK/RUSSIA) *
MAN MUST DIE (UK)
NECROSIS (UK)
SCORDATURA (UK)
BODY HARVEST (UK)
SUNDAY:
HOUR OF PENANCE (ITALY) *
DEFEATED SANITY (GERMANY/USA) *
DYSCARNATE (UK)
CYTOTOXIN (GERMANY) *
EPICARDIECTOMY (CZECH REPUBLIC) *
ANCIENT ASCENDANT (UK)
ABRUPT DEMISE (NETHERLANDS) * / **
ASCARIS (UK)
* = UK exclusive show in 2017
** = UK debut show
ONE STAGE – NO CLASHES ALL WEEKEND!
ROTTEN MUSIC WILL HAVE A MERCH STALL AT THE FESTIVAL ON BOTH DAYS SELLING AN ARRAY OF DEATH METAL ALBUMS AND T-SHIRTS.
PURPLE ROSE TATTOO STUDIO WILL ALSO HAVE A STALL AT THE FESTIVAL SHOWCASING THEIR WORK AND TAKING FUTURE BOOKINGS.
HELD OVER EASTER BANK HOLIDAY WEEKEND!
SATURDAY 15TH APRIL 2017 & SUNDAY 16TH APRIL 2017 – THE BIERKELLER, BRISTOL
WARM-UP PARTY TO FEATURE 6 BANDS TBC:
FRIDAY 14TH APRIL 2017 – THE GRYPHON, BRISTOL
TICKETS ARE ON SALE NOW AND AVAILABLE FROM: https://bristoldeathfest.bigcartel.com
THE GRYPHON IS OPEN ALL WEEKEND UNTIL 3AM AND WILL HOST THE AFTER PARTY ON SUNDAY NIGHT AFTER HOUR OF PENANCE HAVE PLAYED.
NADER SADEK'S NEWEST ALBUM WILL FEATURE GLEN BENTON (DEICIDE) ON VOCALS. THEY WILL BE PERFORMING A SPECIAL EXCLUSIVE SHOW AT BRISTOL DEATHFEST.
LINE-UP FOR BRISTOL DEATHFEST:
Nader Sadek
Derek Roddy (Ex-Hate Eternal/Nile, Serpents Rise)
Destructhor (Myrkskog, Ex-Morbid Angel/Zyklon)
George Maier (Pestilence)
Sarah Jezebel Deva (Ex-Cradle of Filth/Therion)
Mahmud Gecekusu (Perversion)
If you are planning on travelling to Bristol for the event and are seeking accommodation, look no further than The Lanes. Situated almost next door to The Bierkeller (less than 1 minute walk) and less than 10 minute walk from The Gryphon, The Lanes is the ideal location for Bristol Deathfest. Book your stay here: www.thelanesbristol.co.uk
SPONSORS:
RS STUDIOS – www.rs-studios.co.uk – facebook.com/rsstudiosbristol
THE LANES – www.thelanesbristol.co.uk – facebook.com/lanes.bristol
PURPLE ROSE TATTOO STUDIO – www.purplerosetattoo.co.uk – facebook.com/purplerosebristol
ROTTEN MUSIC – www.rottenmusic.net – facebook.com/rottenmusic.net
UKEM RECORDS – www.ukemrecords.co.uk – facebook.com/ukemrecords
INFERIS MAGAZINE – facebook.com/Inferis-Magazine-335454793511596/
THE GRYPHON – facebook.com/gryphonbristol
METAL BRETHREN
A huge thank you to all our sponsors, without your support this festival would not be possible.
www.bristoldeathfest.com
https://www.facebook.com/bristoldeathfestuk
https://www.facebook.com/endoftheworldpromotions